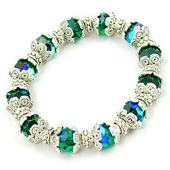 Ajna Intention Jewelry
Energetic patterns can be altered through colors, crystals, and natual stones. By wearing a particular color bracelet or stone, we can gently and efficiently aid our bodies to change personality traits that we no longer like, break old patterns that no longer serve us, and even help our finances. All can be achieved through Ajna Jewelry.
By wearing Ajna Jewelry, you can heal through the color that you pick or that is diagnosed for you. That piece of jewelry then helps realign the color that your body needs to adjust. If a particular color catches your eye, or you feel drawn to a particular color or color combination, your body wants and needs that color adjustment. Just put on your jewelry and watch how many changes occur.
Readings
Do you have a question? Are you in the middle of a transition or do you wonder what might happen on the current path you are on? Several times a year Studio Bella is happy to offer Tarot Card and Chakra readings by Mary Sheppard, Reiki Master.  This is a private session to offer you time to answer the question on your heart, or to find guidance as you explore and face the challenges on your life path.
Reiki
Reiki is a form of supported mediation in which you lay on a massage table fully clothed. During your Reiki session (approximately 1 hour) you as the receiver are invited to enter a time of peaceful rest, as the giver (the Reiki Practitioner) performs different hand positions on or just above your body. Reiki is intelligent energy, it will find its way to the place within you that may feel depleted and need relaxing energy to assist you in finding relaxation and balance on your path.
Contact us now and get special offers!